Network & Security IT - Le RSI
Check news about my company

---
MAILBOX2MAPI is a utility adding advanced control on the mail subsystem for WindowsCE/PocketPC. It offers two functions :
- extraction of a Unix mailbox file into the Message Store, to let the user read mails directly from Pocket Outlook. It is particularly usefull when used conjointly with JavaShare
- delete mails without connecting to the corresponding service : under WindowsCE/PocketPC, you often cannot delete mails when not connected to the service that added them. That means that you need to connect to the Internet to delete local mails ! With mailbox2mapi, you can completely erase a folder in one operation, staying offline.
Name : mailbox2mapi
Author : Alexandre Fenyo - clickhere@fenyo.net License : Freeware
Target OS : WindowsCE 3.x / Pocket PC
Programming language : C++
Libraries : MFC
Tested on : Cassiopeia EM505F
Download : See below
---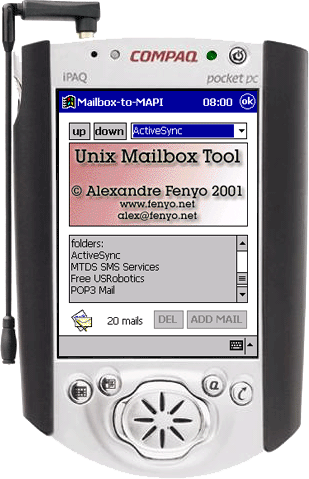 When used conjointly with
JavaShare
, mailbox2mapi is the best solution to retrieve mails under unreliable and low-bandwidth environments (for instance with a PDA using a network connection on top of PPP through an IrDA channel established with a mobile GSM phone). The communications are compressed and an interrupted transfer is restarted at the last position.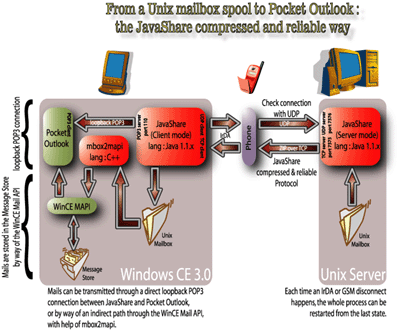 ---
Download
---
www.pdastreet.com
http://www.pocketnow.com
http://home.cearchives.com

Top Articles:
External Links:
Private Links: